Do you know someone who needs a blankie? I do. For our first anniversery, I designed this blanket to give to David. I made it with a real open weave because he's always so warm, but even so, it traps heat really well. You won't believe it until you make it.

I didn't have it stretched even in these photos, but even so: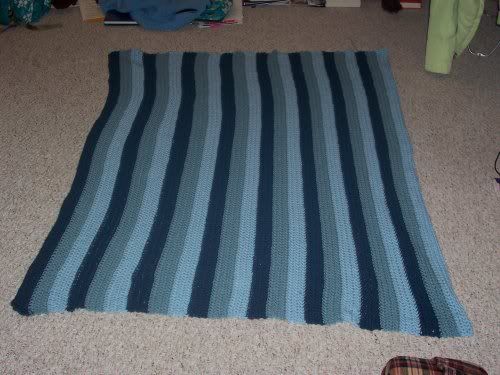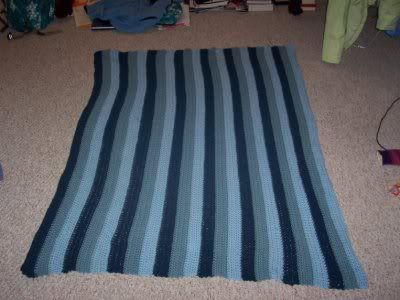 Close up of the stripes and the stitches: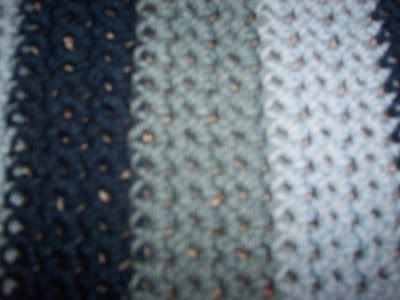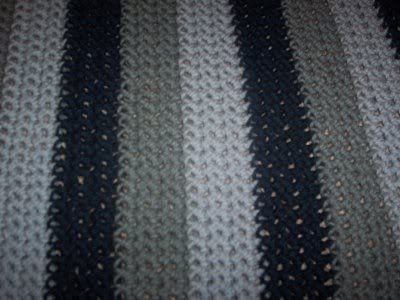 Directions:

Materials:

You're gonna need 12 ounces of three colors of yarn (or 36 ounces of one color, I guess, or 18 ounces of two colors -- depends on how you want to do the striping). My advice is to buy those Caron One Pound skiens. This is what I used:

Caron One Pound in Sky Blue
Caron One Pound in Azure
Caron One Pound in Cape Cod Blue
P Hook

Pattern:

Chain 136. This is so simple. Work 6 sc rows of one color, 6 sc rows of another color, and 6 sc rows of your third color. This makes one set of stripes. I made eight sets of stripes for a 51x63 inch blanket. It's big.